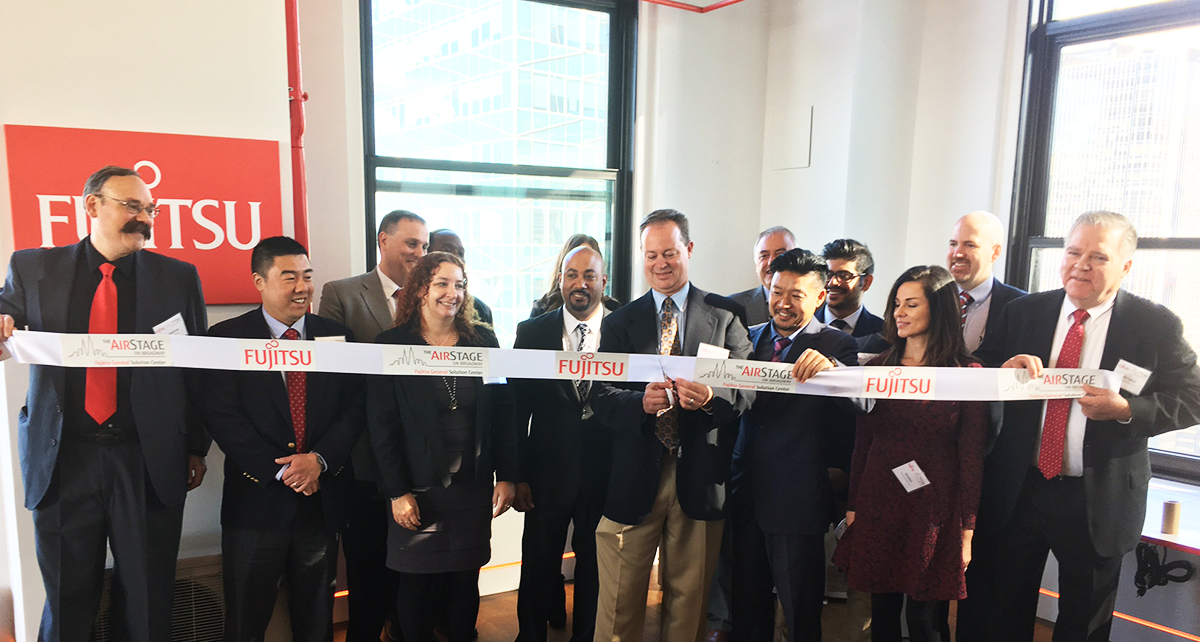 Fujitsu's General Solution Center Opens on Broadway
The "Air Stage," Fujitsu General's Solution Center was officially opened on 1450 Broadway Avenue, 42nd floor. The facility is located in Times Square, just a short walk from the Empire State Building.
Fujitsu General North America President and COO, Matt Peterson, hosted the event and led with a presentation followed by several other Fujitsu executives.
Fujitsu's Air Stage was conceived and designed as a "learning and sharing center" – a think tank – where architects, engineers, building owners, contractors, energy consultants, and HVAC customers can come together to collaborate and share experiences – all with stunning, penthouse views of Times Square and mid-town Manhattan.
The new, 1,600 s.f. location is also an elegant showroom where Fujitsu will display innovative and energy efficient commercial and residential heating and cooling systems. Fujitsu's mini-split and VRF systems are ideal for a wide range of applications, from homes and apartments to restaurants, medical clinics and just about any other facility that requires flexible heating and cooling solutions.
The Air Stage is not only a product showroom, but an education center where colleagues from the HVAC industry can participate in seminars, in-depth training and design consultations.
"The VRF business continues to evolve as a major player in the commercial HVAC market as building owners are realizing the long term savings associated with these systems. Our vision is for visitors to experience the wide range of solutions and support that Fujitsu can offer," said Fujitsu Director of Sales for VRF systems, Sean Boyer.
"Today, VRF technology is recognized as the fastest growing segment of the HVAC industry," added Peterson. "We're delighted to be a global leader. And, here, at the Air Stage, we can share the latest developments as they come on line."
For those interested in scheduling a visit to the AirStage at the Fujitsu General Solution Center, or, to find a solution for your next HVAC project, simply visit www.TheAirStage.com to learn more.